Available IGs in Wisconsin
Please see our Adoption Process page to familiarize yourself with our adoption steps. Our adoption process of written application, interview, and home visit yields a very high percentage of successful adoptions and helps prepare adopters for life with an Italian Greyhound.
If you are not interested in an Italian Greyhound listed below, please
contact us
so we can discuss other options with you. We work closely with Italian Greyhound rescues in surrounding states and would be happy to help you adopt from one of these rescues. We can also give you references to good breeders who improve the breed through good breeding practices for health and temperament. Good breeders allow you to meet the parents so you can verify they are in good health and well cared for.
Beware of buying a puppy online and never buy one from a pet store!
Puppies from most online breeders and all pet stores are from puppy mills. Learn more about
puppy mills here
.


Italian Greyhound
Spayed/Neutered
Up-to-date with routine shots
Housebroken
Meeko is a delight. She is a calm dog, eager to please. She is shy but a very happy dog pleased to be with people, and follows her foster mom everywhere.
Meeko sits, comes, and is leash trained. She sits and waits to be petted rather than jumping up. Fully kennel trained, she will will go to lay down in her kennel and eats all of her meals in there. She hasn't been fed table food and doesn't hover or go after people food.
Meeko is 8 years old and will only be adopted to Wisconsin or a neighboring state. If you would like to apply for Meeko, please fill out our
online application
. Meeko's adoption fee is $250.
Adult, Female, Small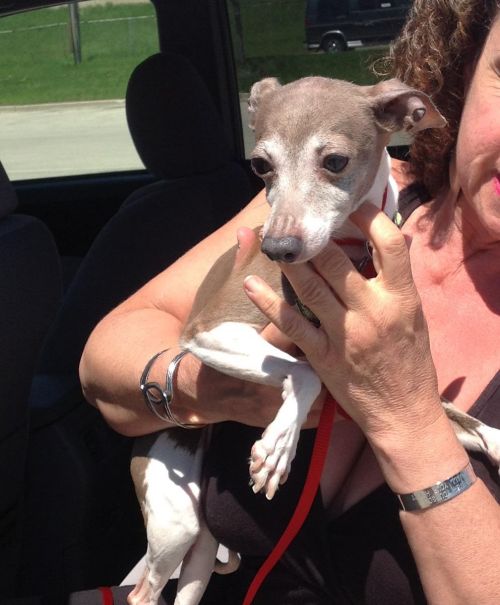 Italian Greyhound
Spayed/Neutered
Up-to-date with routine shots
Nicki is a 5 year old Italian Greyhound. She is very quiet and laid back. Nicki is new in rescue and has not come out of her shell yet but so far seems a little shy. With some love and attention, Nicki will make a great little buddy.
If you would like to adopt Nicki, please fill out our online application. Nicki's adoption fee is $275.
Young, Female, Small