Available IGs in Wisconsin
Please see our Adoption Process page to familiarize yourself with our adoption steps. Our adoption process of written application, interview, and home visit yields a very high percentage of successful adoptions and helps prepare adopters for life with an Italian Greyhound.
If you are not interested in an Italian Greyhound listed below, please
contact us
so we can discuss other options with you. We work closely with Italian Greyhound rescues in surrounding states and would be happy to help you adopt from one of these rescues. We can also give you references to good breeders who improve the breed through good breeding practices for health and temperament. Good breeders allow you to meet the parents so you can verify they are in good health and well cared for.
Beware of buying a puppy online and never buy one from a pet store!
Puppies from most online breeders and all pet stores are from puppy mills. Learn more about
puppy mills here
.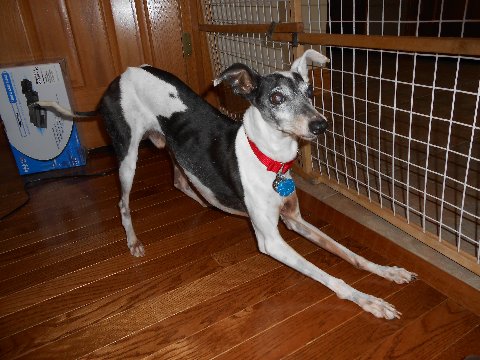 Italian Greyhound
Spayed/Neutered
Up-to-date with routine shots
Housebroken
Leo was a stray and his age is estimated to be between 7 and 10 years old. He is crate trained and great with other dogs. He plays with the other dogs in the foster home and is excellent at going outside to potty. For more information please contact Carol. Leo is located in southeastern WI and will only be placed in Wisconsin or neighboring states.
Adult, Male, Small